We understand that you may have some hesitation to travel in light of the COVID-19.
Family is our number one priority and that certainly includes yours!
Top of the Hock cabin is the perfect getaway to decompress on your family getaway especially in times of stress and anxiety.
We can assure you that we have always taken great pride in the cleanliness of our cabin but are taking extra precautions to make sure that the cabin is clean and ready for your stay.
We will make sure all surfaces, doors and controls are wiped down with disinfecting cleaning wipes and extra attention will be given to cleaning in general to insure you have a clean cabin for your visit.
Welcome to Top of the Hock Cabin
A clean, spacious, & relaxing cabin in Hocking Hills, Ohio. The cabin is secluded and located on the side of a 10 acre hillside, less than a 5 minute drive to Old Man's Cave. Our cabin is dog friendly too.
The cabin is centrally located near all that Hocking Hills has to offer including hiking, fishing, horseback riding, zip lines and ATV trails.
The cabin is fully equipped with everything you need for a romantic getaway or family vacation fun.
Our cabin is Dog friendly too!
No Cleaning Fees Apply!
Wifi Internet, 3 HD Flat Screen TV's With Directv
Game Room Loft with Air Hockey
HD Satellite TV, DVD players, Stereo w/CD player
Hot Tub, Large Wrap Around Deck, Log Swing
Sleeps 4 - 6 comfortably (2 BR & Loft Sleeper sofa)
2 Large bathrooms each with shower
Washer & Dryer, Heat, A/C, 5 Ceiling Fans
Fireplace, Outdoor Gas Grill, Fire pit, Picnic Table
Kitchen equipped for a chef, modern appliances
Centrally located, close to everything!
Easy access to cabin in summer and winter
Secluded, side of 10 acre wooded hill
5 Minutes to Old Mans Cave
About The Cabin
Since the cabin is family owned we take great pride in caring for the cabin ourselves. You will find the cabin clean, well equipped, maintained and nicely furnished with games and activities to make your stay more enjoyable and relaxing. We provide almost everything for your stay including linens and towels. The hot tub water is cleaned and changed regularly!
Amenities
The Kitchen
Fully Equipped kitchen with modern appliances.
Paper & Kitchen Towels, Garbage Bags and Coffee Filters provided.

Pots, Pans, Plates, Utensils - everything you need to prepare your favorite meal.
Sweetener, Salt, Pepper - all stocked.

Games & Entertainment
Satellite TV in bedrooms and entertainment room.
8' Air Hockey Table, Board Games and Card Games.
Free WiFi.
55" Smart TV in entertainment room, 40" TV in main bedroom & 32" TV in lower level bedroom
Bed & Bath
All Linens, Pillows, Towels and Blankets
Individually wrapped hand and body soap.
Toilet Paper, Bath Tissues
Queen Size Beds, Queen pull out sofa.
Bathrooms with shower
Extras
Hot tub on covered deck. Water changed regularly
Gas provided for gas fireplace & outdoor grill.
5 Ceiling Fans.
Washer Dryer.
Outdoor fire pit, Picnic Table, Log Swing
Rates & Policies
Same Rate - All Year Round
Terms
50% due at time of reservation, balance is due 30 days prior to stay. Reservations made within 45 days of check in will be charged in full.

Minimum 2 Night Stay Required. One day stays will be considered if there is an opening between reservations. Please contact us for availability.
Check in is 3:00 PM, Check out is 11:00 AM. (Sorry no exceptions)

Rates are based on 4 Adult Maximum. Additional $20 per night for each adult that exceeds 4 adult maximum.
Families may have up to 6 guests with a maximum of 4 adults. Additional $20 per night for each guest over 6 or adults over 4.
Holiday pricing is increased by $50 per night.

We accept Visa & Mastercard.
Policies
Additional daily charges of: $20 per adult over 4 adults. For families, $20 per guest for each guest over 6 (4 adult maximum)

No smoking in cabin. Up to $200 cleaning charge for smoking or excessive cleaning.
Dogs allowed with additional $20 fee per night per dog. Dogs must be well behaved. Grounds must be cleaned up after your dog. You are responsible for any damage caused by your pet. $100 cleaning fee if not notified of pets prior to visit.
Do not rearrange the furniture or throw trash or cigarettes in fire pit or cabin grounds.

You are responsible for putting trash in proper receptacles. Upon checkout, all trash should be taken to container at the end of driveway. Used towels and linens should be left on the floor. Cabin should be locked and grounds left as you found them.
$100 cleaning fee will be charged if checkout instructions are not followed.
We are not responsible for power outages during your stay. No refunds will be given.
As the owners of Top of the Hock LLC, we will assume no responsibility for loss or damage to guests personal affects or injury during the rental period.

A thirty day (30) notice is required for cancellation. Cancellations made prior to 30 days will incur a 5% cancellation fee. Cancellations or changes within 30 days that result in a shortened stay forfeit the full advance payment (You will need to purchase travel insurance for cancellations within 30 days).
You are responsible for all damage, lost or stolen items and charges to the cabin.

There is a $50 inconvenience fee plus postage to return items left at the cabin

Reviews
This is our fourth trip to Hocking Hills and by far this is top of the notch! No place in Hocking Hills beats this! We plan on making this our 5th trip in the near future
My husband and I have been coming to Hocking Hills for year with our kids and I must say this has been the best we have stayed at! Wonderful location, clean with everything you need. We will be back!
This is our third trip to Hocking Hills and Top of the Hock is by far the nicest cabin we have had the pleasure of staying at. Everything in the cabin was a step above the others we have been at. The washer & dryer, grill, and even the pizza oven sheet. We enjoyed the hot tub and view from the deck!
Top of the Hock, Great name for definitely one of the best retreats in the hills! We enjoyed the cozy atmosphere. Plenty to do inside and out! The cabin was clean, organized and user friendly… we talked more and played more than we have in a long time. Great family fun!
Thank you for providing such a beautiful place to stay! The game room & fire pit were big hits as where the stars! (Thanks for those to!) What a great place for our last summer getaway.
The most peaceful retreat/vacation I've been to. Loved listening to the birds and doing my yoga on the deck in the morning. Your cabin is beautiful and has everything you need. All the attractions were just a five minute drive away. I would recommend this place to anyone. It has the right ambience for anytime of year! Will definitely be back!
Your cabin is AH-MAZING! The hot tub was great and the place was very tidy. There was plenty of room to move around so weren't in each other 'bubble". The game rooms got lots of use, thanks!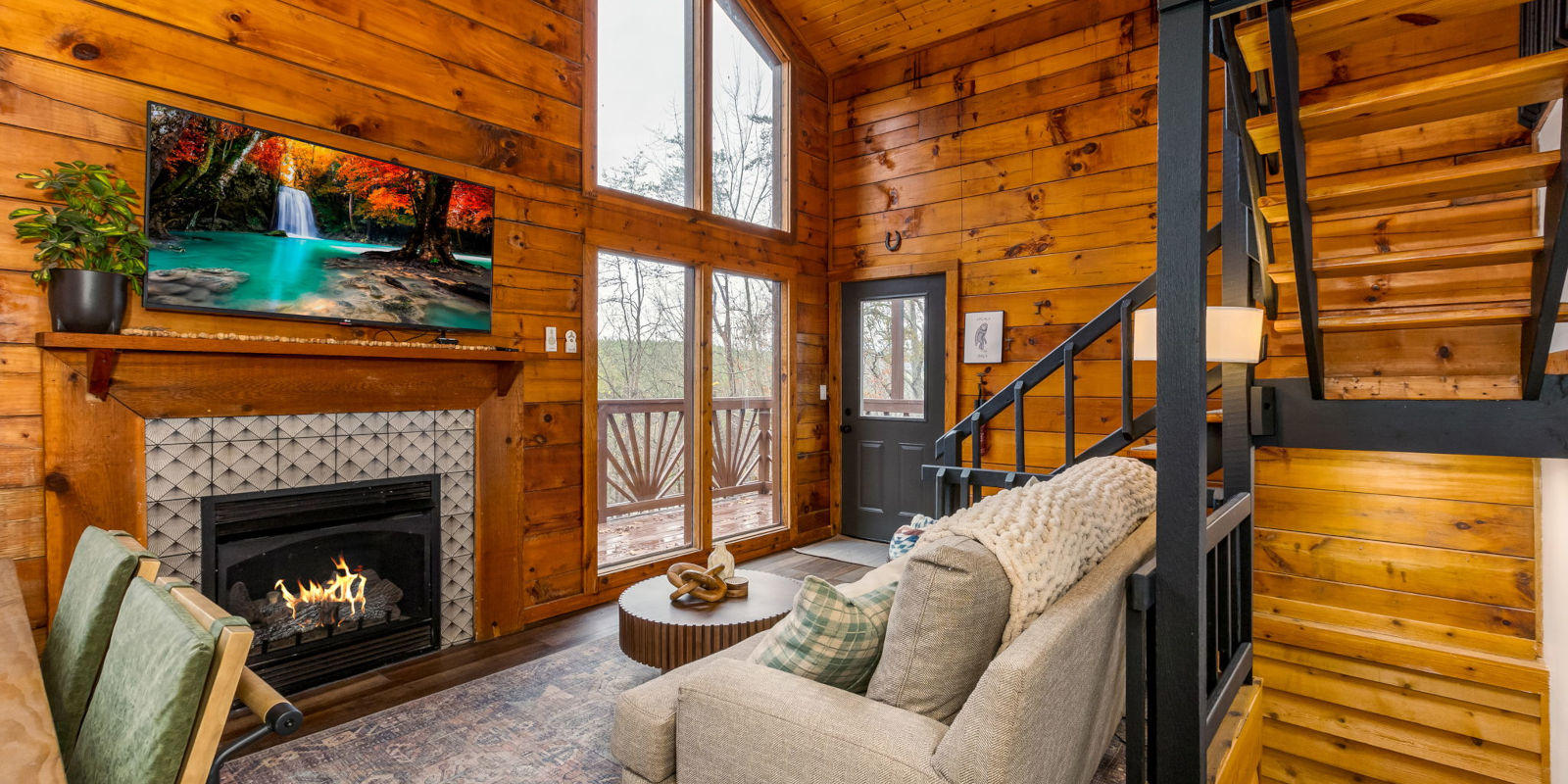 Logan Frozen Festival
On
Jan 21 (Sat)
Price
Free
Contact
Logan Towncenter
Phone
740-385-2750
Come to downtown logan to enjoy the 6th annual Logan Frozen Festival from 12-6pm. Enjoy ice sculptures, ice games, vendors and more.
Winter Hike at Hocking Hills
On
Jan 21 (Sat)
Price
Free
Contact
Hocking Hills State Park
Phone
740-685-6841
Enjoy a winter wonderland 6-mile trek from Old Mans Cave to Ash Cave. Starts from 9-11a.m. At Cedar Falls The Logan Kiwanis Club famous bean soup and cornbread muffins are served donations appreciated. A shuttle bus returns hikers to Old Mans Cave parking area. We recommend Layered clothing and good footwear.A mask is required on public transit, so to ride the buses you will need a mask.
Sweetheart Hike
On
Feb 11 (Sat)
Price
Free
Contact

Phone

Meet at Ash Cave Parking Area At Dusk Go on a romantic stroll to Ash Cave in the soft light of dusk. Afterward, enjoy a cozy fire and refreshments.