We understand that you may have some hesitation to travel in light of the COVID-19.
Family is our number one priority and that certainly includes yours!
Top of the Hock cabin is the perfect getaway to decompress on your family getaway especially in times of stress and anxiety.
We can assure you that we have always taken great pride in the cleanliness of our cabin but are taking extra precautions to make sure that the cabin is clean and ready for your stay.
We will make sure all surfaces, doors and controls are wiped down with disinfecting cleaning wipes and extra attention will be given to cleaning in general to insure you have a clean cabin for your visit.
Welcome to Top of the Hock Cabin
A clean, spacious, & relaxing cabin in Hocking Hills, Ohio. The cabin is secluded and located on the side of a 10 acre hillside, less than a 5 minute drive to Old Man's Cave. Our cabin is dog friendly too.
The cabin is centrally located near all that Hocking Hills has to offer including hiking, fishing, horseback riding, zip lines and ATV trails.
The cabin is fully equipped with everything you need for a romantic getaway or family vacation fun.
Our cabin is Dog friendly too!
Wifi Internet, 3 HD Flat Screen TV's With Directv
Game Room Loft with Air Hockey
HD Satellite TV, DVD players, Stereo w/CD player
Hot Tub, Large Wrap Around Deck, Log Swing
Sleeps 4 - 6 comfortably (2 BR & Loft Sleeper sofa)
2 Large bathrooms each with shower
Washer & Dryer, Heat, A/C, 5 Ceiling Fans
34 In cabin movies to watch on DVD
Fireplace, Outdoor Gas Grill, Fire pit, Picnic Table
Kitchen equipped for a chef, modern appliances
Centrally located, close to everything!
Easy access to cabin in summer and winter
Secluded, side of 10 acre wooded hill
5 Minutes to Old Mans Cave
About The Cabin
Since the cabin is family owned we take great pride in caring for the cabin ourselves. You will find the cabin clean, well equipped, maintained and nicely furnished with games, movies and activities to make your stay more enjoyable and relaxing. We provide almost everything for your stay including linens and towels. The hot tub water is cleaned and changed regularly!
Amenities
The Kitchen
Fully Equipped kitchen with modern appliances.
Paper & Kitchen Towels, Garbage Bags and Coffee Filters provided.

Pots, Pans, Plates, Utensils - everything you need to prepare your favorite meal.
Sweetener, Salt, Pepper, Ketchup, Mayo & Mustard - all stocked.

Games & Entertainment
Satellite TV, DVD players in bedrooms and entertainment room.
8' Air Hockey Table, Board Games and Card Games.
Free WiFi.
Movies collection.
40" HD TV in Entertainment room, 32" HD TV in bedrooms
Bed & Bath
All Linens, Pillows, Towels and Blankets
Individually wrapped hand and body soap.
Toilet Paper, Bath Tissues
Queen Size Beds, Queen pull out sofa.
Bathrooms with shower
Extras
Hot tub on covered deck. Water changed regularly
Gas provided for gas fireplace & outdoor grill.
5 Ceiling Fans.
Washer Dryer.
Outdoor fire pit, Picnic Table, Log Swing
Movie Collection
PG
Beetle Juice
Big Fat Liar
ELF
Hook
Jumanji
Monster House
Rango
The First Wives Club
The Great Outdoors
The Haunted Mansion
The Toy
Uncle Buck
PG13 & R
50 First Dates
Big Mamma's House
City Slickers
How To Lose A Guy in 10 Days
Intolerable Cruelty
Liar, Liar
Minority Report
Oceans Eleven
Something's Got To Give
Two Weeks Notice
Without A Paddle
Striking Distance [R]
Children's Movie
Barbie Magic Pegasus
Children's Movies
Finding Nemo
Ice Princess
Little Mermaid
Nick Jr Favorites
Sleeping Beauty
Sponge Bob Seasons 1,2,3
Rates & Policies
In Season
March - December
Off Season
January - February

Terms
50% due at time of reservation, balance is due 30 days prior to stay. Reservations made within 45 days of check in will be charged in full.

Minimum 2 Night Stay Required. One day stays will be considered if there is an opening between reservations. Please contact us for availability.
Check in is 3:00 PM, Check out is 11:00 AM. (Sorry no exceptions)

Rates are based on 4 Adult Maximum. Additional $20 per night for each adult that exceeds 4 adult maximum.
Families may have up to 6 guests with a maximum of 4 adults. Additional $20 per night for each guest over 6 or adults over 4.
Weekend rates will apply on holidays.

We accept Visa & Mastercard.
Policies
Additional daily charges of: $20 per adult over 4 adults. For families, $20 per guest for each guest over 6 (4 adult maximum)

No smoking in cabin. Up to $200 cleaning charge for smoking or excessive cleaning.
Dogs allowed with additional $20 fee per night per dog. Dogs must be well behaved. Grounds must be cleaned up after your dog. You are responsible for any damage caused by your pet. $100 cleaning fee if not notified of pets prior to visit.
Do not rearrange the furniture or throw trash or cigarettes in fire pit or cabin grounds.

You are responsible for putting trash in proper receptacles. Upon checkout, all trash should be taken to container at the end of driveway. Used towels and linens should be left on the floor. Cabin should be locked and grounds left as you found them.
$100 cleaning fee will be charged if checkout instructions are not followed.
We are not responsible for power outages during your stay. No refunds will be given.
As the owners of Top of the Hock LLC, we will assume no responsibility for loss or damage to guests personal affects or injury during the rental period.

A thirty day (30) notice is required for cancellation. Cancellations made prior to 30 days will incur a 5% cancellation fee. Cancellations or changes within 30 days that result in a shortened stay forfeit the full advance payment (You will need to purchase travel insurance for cancellations within 30 days).
You are responsible for all damage, lost or stolen items and charges to the cabin.

There is a $50 inconvenience fee plus postage to return items left at the cabin

Reviews
This is our fourth trip to Hocking Hills and by far this is top of the notch! No place in Hocking Hills beats this! We plan on making this our 5th trip in the near future
My husband and I have been coming to Hocking Hills for year with our kids and I must say this has been the best we have stayed at! Wonderful location, clean with everything you need. We will be back!
This is our third trip to Hocking Hills and Top of the Hock is by far the nicest cabin we have had the pleasure of staying at. Everything in the cabin was a step above the others we have been at. The washer & dryer, grill, and even the pizza oven sheet. We enjoyed the hot tub and view from the deck!
Top of the Hock, Great name for definitely one of the best retreats in the hills! We enjoyed the cozy atmosphere. Plenty to do inside and out! The cabin was clean, organized and user friendly… we talked more and played more than we have in a long time. Great family fun!
Thank you for providing such a beautiful place to stay! The game room & fire pit were big hits as where the stars! (Thanks for those to!) What a great place for our last summer getaway.
The most peaceful retreat/vacation I've been to. Loved listening to the birds and doing my yoga on the deck in the morning. Your cabin is beautiful and has everything you need. All the attractions were just a five minute drive away. I would recommend this place to anyone. It has the right ambience for anytime of year! Will definitely be back!
Your cabin is AH-MAZING! The hot tub was great and the place was very tidy. There was plenty of room to move around so weren't in each other 'bubble". The game rooms got lots of use, thanks!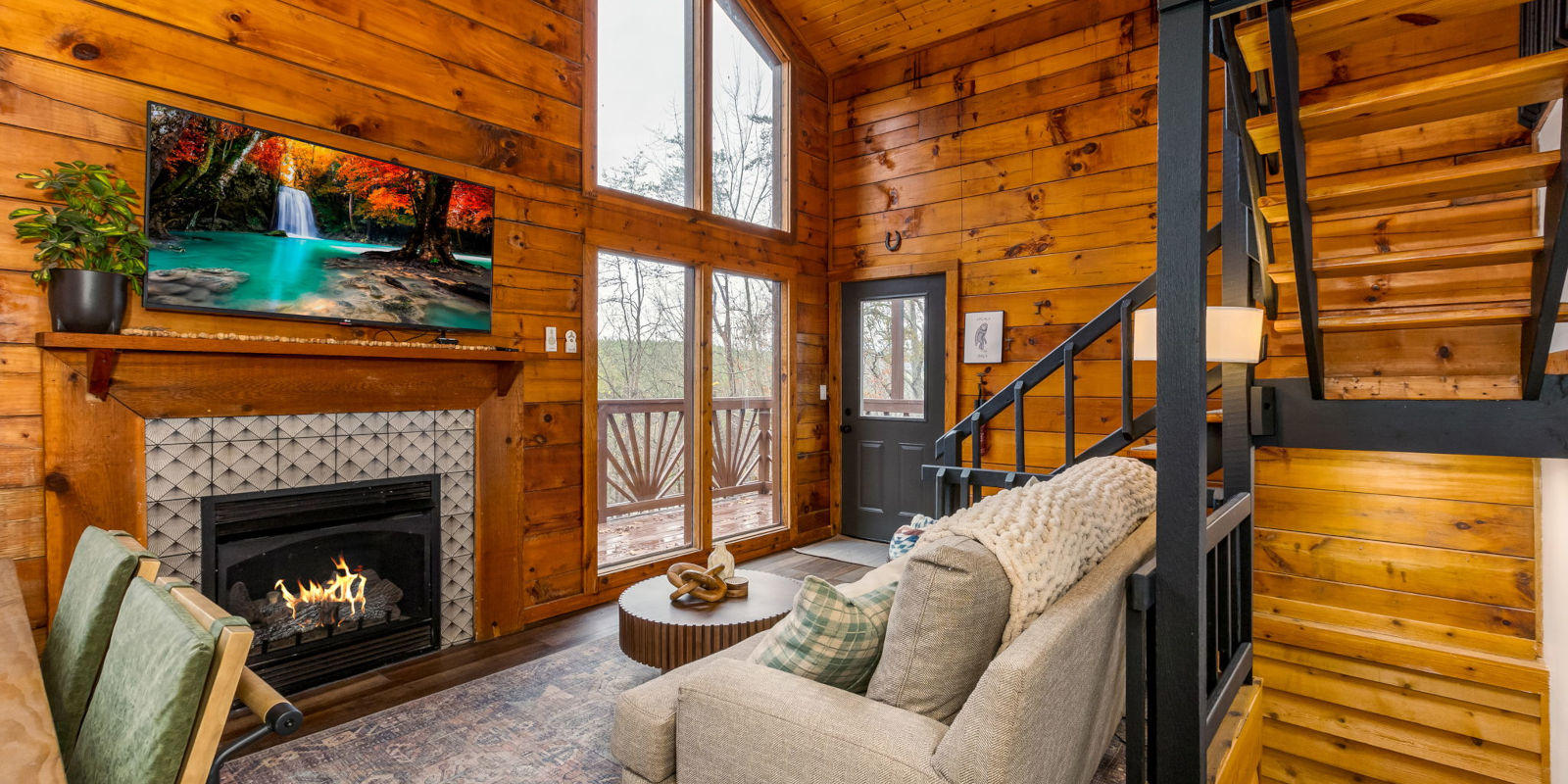 HockingHills.com RSS Regional Activities
Horseback Riding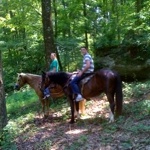 Equestrian Ridge Farm
Come and ride with us Horseback riding at Equestrian Ridge Farm. Open all year. All rides are customized for you and your party up to 10 people. Whether you are looking for a quiet ride through the woods/meadows or a more adventurous fast paced ride, we can tailor a ride for you. Have kids - Ask about our special rides for children. We can create a special experience just for them. All rides include a riding lesson and guide/instructor. Reservations please.
Location:
26711 Pumpkin Ridge Rd., New Plymouth
Phone:
740-603-2523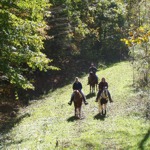 Smoke Rise Ranch Resort
Nestled in the rolling hills of Southeastern Ohio, Smoke Rise is a working cattle ranch that offers guests an opportunity to experience the adventures of the West, not so far from home. Whether you prefer to be part of the action with cattle drives, team penning, cow cutting and guided trail rides or you simply want to ride at your own leasure, Smoke Rise is sure to give you a taste of the old western famed cowboy lifestyle. Guests stay in rustic bunk style cabins on the ranch.
Location:
6751 Hunterdon Rd, Glouster
Phone:
740-767-2624, 800-292-1732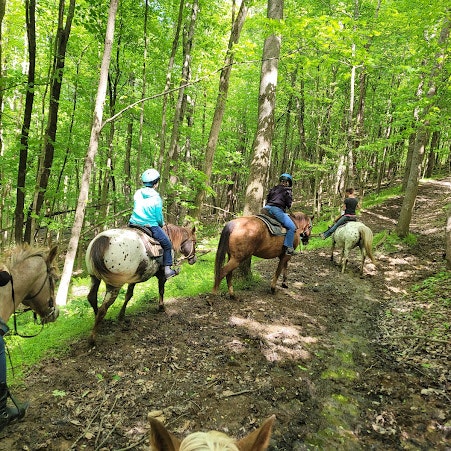 Spotted Horse Ranch
We are a working ranch. We offer our guests the excitement of riding the trails on one of our Appaloosa horses, or bring their own horse The Ranch offers a 16-site campground. Each site has electric and water, shower house with flush toilets. Our Party Hall and lighted arena for open barrel racing, horse shows, etc is available. For a truly unique adventure try our Cowboy Cookout ride
Location:
17325 SR 180, Laurelville
Phone:
740-332-RIDE, 877-992-7433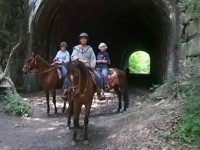 Uncle Bucks Riding Stable
Uncle Bucks Riding Stable features scenic guided trail rides in Zaleski and Waterloo State forests with ample parking. large enough for buses and picnic facilities.Uncle Bucks guided horseback rides offer a unique way to explore the 27,000 acres of the Zaleski State Forest.
Location:
73930 Buck Lane, New Marshfield
Phone:
740-664-2428, 800-221-1122
Zipline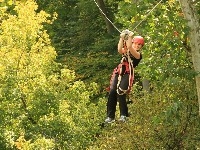 Hocking Hills Canopy Tours
Visitors to the Hocking Hills Canopy Tours Zipline Adventures can explore the treetops during a trip above caves and rock cliffs. Zip liners are suspended on a network of cables, getting a birds eye view of the Hocking River, native wildlife, plants, and rocks.
Location:
10714 Jackson Street, Rockbridge
Phone:
740-385-9477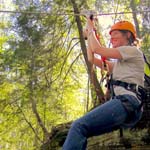 Soaring Cliffs
Soaring Cliffs offers a zip line experience unlike any other in the Hocking Hills. The lines are set over a natural gorge complete with sandstone rock formations, wildlife, and a seasonal waterfall. Because all launch and landing sites are at ground level, guests have the opportunity to explore the caves and additional waterfalls along the course trails or simply sit and take in the breathtaking scenery while waiting for their turn at each zip location. The views are amazing, the rush is incredible, and the experience is unforgettable.
Location:
24719 Miller Road, Rockbridge
Phone:
855-947-4386
Canoeing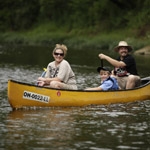 Hocking Hills Adventures
Take a break and enjoy the serenity of the Hocking Hills. Hocking Hills Adventures has the best river trips Choose a trip from two hours to two days in a canoe or kayak. Take a leisurely float with a raft or tube. Tucked away on our 200 acre property, youll find cozy camper cabins, equipped with all the outdoor necessities. You will also find spacious campsites along the Hocking River. Hocking Hills Adventures is also the perfect place to host a company picnic, birthday parties or family gatheringsCelebrating Over 40 Years of MemoriesOver 40 years alot of things have changed, we have different equipment, more river destinations, more vehicles but our commitment to exceeding our guests expectations has not. We continue to pride ourselves in providing memorable outdoor experiences that are CLEAN, SAFE and FUN. Outdoor experiences should be accessible for everyone and we strive to provide the best equipment, river trips and service to make this possible. This year were offering free seat backs on both canoes and kayaks. And, as always, kids canoe for free Join us in 2018 and be a part of the history of Hocking Hills Adventures
Location:
31251 Chieftain Drive, Logan
Phone:
740-385-8685, 800-686-0386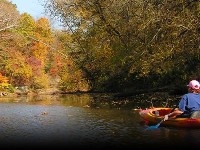 Hocking Hills Canoe Livery
Paddle the waters once plied by Native Americans and early settlers in the Hocking Hills region. Hocking Hills Canoe Livery is a full service livery with canoe, raft and kayak rentals available in a varietyof trip lengths. Special outings include Moonlight tours and great beginners trips. Group rates are available and there is a picnic pavilion perfect for outings of any size. Be sure to call for more information and reservations.
Location:
12789 State Route 664 South, Logan
Phone:
740-385-0523, 800-634-6820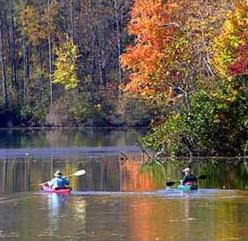 Lake Logan State Park
One of the best fishing lakes in Ohio awaits sportsmen in Hocking County at Lake Logan State Park. The lake sports northern pike, bass, bluegill, crappie, catfish and saugeye. Lake Logan is a day-use park that provides scenic picnic areas. Hiking Trails: 3/4 miles Wheelchair Accessible: No Pets Allowed: Yes Waterfalls: No Shelter House: No Picnic Tables: 10 Restrooms: Yes Swimming: YesFishing: YesBoat Rentals: Yes
Location:
State Route 278 South, Logan
Phone:
740-385-6842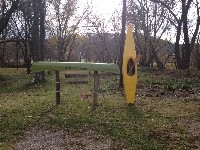 Murrays Landing Canoe and Kayak Livery
We are a family owned and operated business in Nelsonville, Oh. We have enjoyed for many years fishing and canoeing on the Hocking river. We wanted to bring that same sense of adventure and love of nature to as many of our family and friends as possible. There is no better place to create memories of a lifetime then canoeing or kayaking on the river. The Hocking River is a Class I river so its safe and enjoyable for all ages.There are two trip options. Both trips are good for beginners. The Hocking River is generally a calm smooth river with a few riffles, islands and sand bars. The stretch the trips run on is Class I. We transport you upstream and you canoe back to the building and your car with the current. All paddling times are approximate, based on the average time of an average paddler in average river conditions. Both trips run on the Hocking River. Adverse river conditions may make an alternate waterway necessary. Both trips provide great fishing opportunities.
Location:
701 W. Washington St., Nelsonville
Phone:
740-856-7848
Plane Rides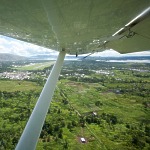 Hocking Hills Scenic Air Tours
Come fly the sky trails above the scenic vistas of the Hocking Hills and capture the wonder of the regions natural beauty. Clearly see the fascinating geological footprints preserved from antiquity.
Location:
66285 Airport Road, New Plymouth
Phone:
740-380-2031, 740-649-2207
Amusement

Artista Rock School
Artista Rock School offers private one-on-one music lessons and weekly group lessons to children ages, 8-18. Artista focuses on creative expansion of singing, playing an instrument, songwriting and all other skills needed for producing professional performances. Keep a look out for upcoming performances
Location:
38 W Main Street, Logan
Phone:
740-407-5894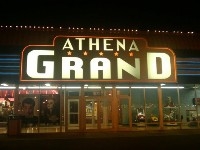 Athena Grand
Tue-Thu Hours are 3:30pm - 10:30pm, Fri-Mon Hours, Holiday Hours and Summer Hours are 12:30pm - 10:30pm. Athena Grand shows current movies, National Theatre Live, Met Opera, Bolshoi Ballet. The Athena Grand is proud to announce our affiliation with NCM Fathom and SpectiCast Entertainment. NCM Fathom, their parent company, NCM Media Networks, links more than 15,000 digital screens in more than 170 markets coast to coast, delivering the best entertainment to movie theaters across America.
Location:
1008 East State Street, Athens
Phone:
740-593-8800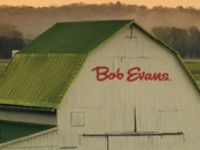 Bob Evans Farm Festival
The Annual Farm Festival held in October of every years offers a wide range of entertainment, one-of-a-kind handmade arts and crafts, farm contests, delicious local food, childrens activities, demonstrations and musical performances
Location:
791 Farmview Road, Bidwell
Phone:
740-245-5304, 800-994-3276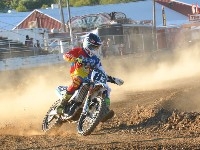 Hocking County Fairgrounds
The Hocking County Fairgrounds is home to the Hocking County Fair and the Hocking County Extension office - a branch office of the Ohio State University. There are many events associated with the racetrack and also through the extension office as a non-formal educational system.
Location:
150 North Homer Avenue, Logan
Phone:
740-385-3222
Hop N Hocking Hills
We are an indoor recreation facility featuring bounce houses, video gaming, and virtual reality We offer open play private party rentals. Our open play hours are M, W, Th, F:10am-6pm, Sa/Su:8am-11:30am. Open pay is $5 per child for the entire day. We also offer punch passes monthly passes
Location:
40 N Market St, Logan
Phone:
740-216-4529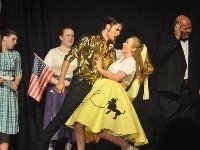 Pickerington Community Theatre
Pickerington Community Theatre is an all-volunteer organization dedicated to creating dramatic arts opportunities for all in Central Ohio. Whether it is an hilarious musical comedy or a serious Agatha Christie murder mystery, whether it is improv comedy or a multigenerational variety show, PCT has something for everyone.Our Mission is to preserve, promote, and perform all types of living theatre in the community. To welcome and encourage all those who wish to participate, help, and express themselves through the theatre, both on and off stage. This will be achieved through the encouragement of intergenerational participation.It really comes down to three things for us: Theatre. Family. Fun.Theatre: PCT produces four mainstage shows a year. We hold open auditions and welcome all, from beginners to veterans. -The plays the thing,- wrote Shakespeare, and our shows are the main focus of what we do. We also stage a variety show and have a live comedy troupe.Family: PCT is a community theatre. Our volunteers are not just participants, they are family. We build camaraderie onstage and off so you will feel you belong. Our Annual Variety Show and summer picnic are places to celebrate those who find a home with us.Fun: Whether you are in the audience, onstage, or behind the scenes, PCT is committed to making your experience fun. We work hard so we can play hard. Whether it is comedy, tragedy, or something in between, involvement with Pickerington Community Theatre is meant to be enjoyable.
Location:
538 Diley Rd., Pickerington
Phone:
614-508-0036
R Adventure Park
R Adventure Park is Logans hidden paradise for outdoor recreation enthusiasts. We are the only Polaris Adventures partner ATV rental location in Ohio, and also have three paintball fields, The Worlds Largest Family Ropes Course, and Moonshiners Mystery Shack We have a wide variety of packages to show you all the forest has to offer, and our venue is perfect for family events, concerts, and corporate outings. Come visit the park and experience a full day of fun activities, great sights, and new memories
Location:
15155 Sauerkraut Road, Logan
Phone:
740-380-1775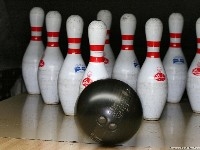 Scenic Lanes and Billiards
Location:
1333 West Hunter Street, Logan
Phone:
740-385-3879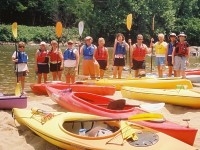 Touch the Earth Adventures
Our mission is to inspire and empower individuals through hiking and kayaking adventures, connecting us to the Earth. We offer guided kayaking trips on local waters to explore the life of the area. We are environmentally conscious and support environmental causes. Instruction is provided by trained personnel and all equipment is provided. No experience is necessary. Call for reservations and information, and visit our website for descriptions of the many special experiences we offer.
Phone:
740-591-9094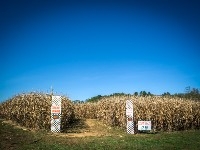 Walker Farm
The Walker Farm offers pumpkins, gourds, a corn maze and wagon rides on Saturday and Sunday in season. U-pick or select from already picked. Groups by appointment or welcome.
Location:
28800 Chieftain Drive, Logan
Phone:
740-385-6758, 740-385-6758
Family Outting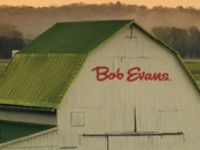 Bob Evans Farm Festival
The Annual Farm Festival held in October of every years offers a wide range of entertainment, one-of-a-kind handmade arts and crafts, farm contests, delicious local food, childrens activities, demonstrations and musical performances
Location:
791 Farmview Road, Bidwell
Phone:
740-245-5304, 800-994-3276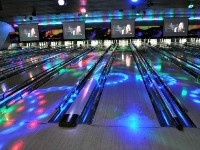 Rollerball Lanes
Rollerbowl Lanes is a beautiful 16 lane center that has been family owned and operated since 1958. With state of the art technology and a professional, attentive staff, Rollerbowl Lanes delivers the best bowling experience around. Home of Ohio University bowling classes.Come in and enjoyPool Tables - Internet Juke Box - Snack Bar - Cosmic Bowling - Awesome Sounds - Racing Lane Lights - Bumper BowlingRollerbowl Lanes is the perfect place to have a party.
Location:
28 Palmer Street, Athens
Phone:
740-593-7888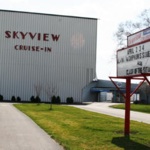 Skyview Drive-In
One of only about 396 drive-ins left in the United States The Skyview Drive-In was built in 1948 by the late Carlos Crum. Walt Effinger, an employee of 30 years, purchased the drive-in in April of 1994 from Mr. Crum. Walt continues to maintain the high standards customers have come to expect. His wife, Cathie, provides quality food and excellent customer service at the concessions stand. Together, Walt and Cathie provide quality entertainment for the whole family at very affordable prices.
Location:
2420 E. Main Street, Lancaster
Phone:
740-653-5517, 877-286-6843
Miniature Golf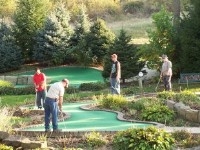 Adventure Golf at Rempels Grove
One of the most challenging and beautiful miniature golf courses you will ever play. Thousands of flowers, streams and waterfall. Great family fun. Free petting zoo. Come and enjoy one of the great American pastimes at Adventure Golf.June through AugustMonday Thursday 11:00 am 9:00 pmFriday Saturday 11:00 am 10:00 pmSunday 11:00 am 8:00 pmMay, September, and OctoberFriday 3:00pm - 9:00 pmSaturday 12:00 pm 9:00 pmSunday 12:00 pm 6:00 pmGolf season runs May through October, weather permitting.
Location:
12819 State Route 664 South, Logan
Phone:
740-385-0523
Outdoor Drama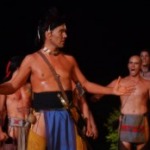 TECUMSEH Outdoor Drama
On the forested slopes of Sugarloaf Mountain early Ohio history lives again. It is the time of flintlock and tomahawk...of broken lives and broken treaties... It is a time of love and peace...of hatred and war. It is the Ohio country of the early 1800s. It is the epic outdoor historical drama, TECUMSEH
Location:
5948 Marietta Road, Chillicothe
Phone:
740-775-4100
Workshops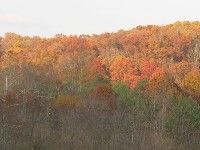 Appalachia Ohio Alliance Demonstration Area
At the demonstration site we hold events open to the community that support and carry out educational, research and outreach activities that foster an appreciation of and pride for the natural features, native plants and animals, scenic beauty and cultural and historical heritage characteristic of the Appalachia Ohio region. We are dedicated to the conservation and stewardship of our land and water as sustainable natural resources that are an asset and a legacy for our community.
Location:
25797 Bailey Road, Rockbridge
Phone:
334-399-2345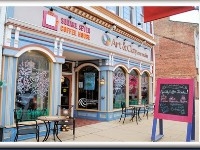 Art Clay on Main
Hours: Mon-Thu:7am-6pm, Fri:7am-10pm, Sat:9am-8pm, Sun:12-4pm. Art Clay on Main is a full-service art studio featuring Paint Your Own Pottery, Glass Fusion, Canvas Painting, Wet Clay Instruction, Wheel Throwing Studio, Summer Art Camps for children, PreSchool Picassos for younger students, and many special events. We also offer private lessons, party rentals and more.Square 7 Coffee House is a full-service coffee house, located inside the Art Clay on Main studios. Square 7 features custom-roasted coffees and espresso from Staufs of Grandview. Boasting a true European barista menu of coffees and lattes, we also have a full range of chais, loose teas from around the globe, smoothies, gourmet chocolates from Coblentz, muffins and sandwiches.Both Art Clay and Square 7 are social purpose enterprises owned and operated by Fairfield County Board of Developmental Disabilities.The Blue Shoe Art Studio, an accessible art studio for adults with disabilities, is also housed inside Art Clay.
Location:
50 West Main Street, Lancaster
Phone:
740-653-1755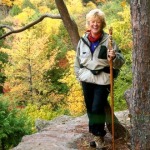 Earth Touch Workshops
Retreats for women gathering together for hiking, kayaking, birdwatching, photography, and Native American teachings for the purpose of connecting to the Earth.
Location:
PO Box 326, Athens
Phone:
740-592-3496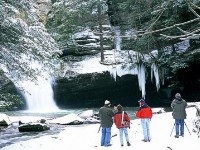 Eric Hoffman, Old Bears Den Photography
Environmental Landscape Photography Workshops. Wedding and gathering photography. Also, Hocking Hills Personal Photographer sessions for only $135.
Location:
16961 Harble-Griffith Road, Logan
Phone:
740-380-2039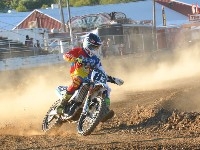 Hocking County Fairgrounds
The Hocking County Fairgrounds is home to the Hocking County Fair and the Hocking County Extension office - a branch office of the Ohio State University. There are many events associated with the racetrack and also through the extension office as a non-formal educational system.
Location:
150 North Homer Avenue, Logan
Phone:
740-385-3222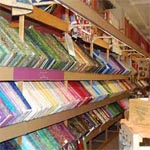 Nelsonville Quilt Company
Hours: 9:30am - 5:30pm Mon/Tue/Wed/Fri. 9:30am-6:30pm Thu. 9:30am-4:30pm Sat. Southeastern Ohios premier quilt shop. Every Wed come for Quilt Therapy. Offering more than 2,200 bolts of fine quilting fabrics, notions, patterns books. Classes and retreats are offered. Long arm quilting services available.
Location:
52 W. Washington St., Nelsonville
Phone:
740-753-3343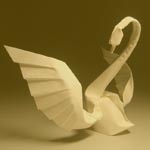 Paper Circle
Tue/Thu/Fri 10am - 4pm. Sat 11am - 4pm. Last Fri every month - 5-9pm. Paper Circle is a non-profit paper, print and book arts organization located on the historic, starbrick-lined square of Nelsonville. We house a gallery with 12 professional exhibitions a year, shop where we sell an assortment of handmade papers and other objects of art, and a creative studio which is located in the rear, in which we make paper by hand - and where we offer community workshops. Downstairs we have a screen printing shop and our O-Gami papermaking operation. Our major outreach program, Circle for Kids, takes place in the summer. In response to the lack of art education in the school from grades K-8, Circle for Kids provides the under-served area youth a summer of enrichment and learning through the arts.
Location:
35 West Columbus Street, Nelsonville
Phone:
740-753-3374
HockingHills.com RSS Calendar of Events
August 2020
Virtual Nelsonville Music Festival - Aug 21 (Fri) thru Aug 22 (Sat) - Missing live music VNMF is a fundraiser for Stuarts Opera House and the Nelsonville Music Festival. Please join us for two evenings of great music on August 21 and 22 at 8pm EST. We will be streaming the event from our YouTube channel. Please visit https://www.nelsonvillefest.org for more information
Contact: ,
Phone:
Live Music at Brewery 33 - Aug 22 (Sat) - Join us from 4PM-7PM at Brewery 33 and enjoy the sweet sounds of Ingham Station. Come out, have a drink and enjoy the sounds
Contact: ,
Phone: 7403856033
Return to Wild Forest Therapy Session - Aug 29 (Sat) - Return to Wild: Forest Therapy Session - Tune your mind into the healing benefits of the natural world while being guided on local trails where we explore the local environment. Inspired by the Japanese practice of shinrin-yoku, our Return to Wild guides use the beautiful Hocking Hills forest as a source of meaningful sensory connection. Experience Includes:Aromatherapy Yogic Breathing Practices Guided Sensory Exercises Personal Writing Journals.Forest Tea Tasting: Brewed From Local PlantsDates: Saturday, August 29th, 9am-11amVisit https://www.newleafwellnessretreat.com for more information or reach us at newleafwellnessretreatoutlook.com.
Contact: ,
Phone: 740-404-9547
September 2020
Moonlight Canoe Trip - Sep 6 (Sun) - Enjoy a romantic evening on the water with a Moonlight Canoe Trip Tours are set to depart roughly an hour before dusk and lasts 1-2 hours. Visit https://hockinghillscanoeing.com/moonlighttrips.html for more details
Contact: ,
Phone:
21st Annual Ohio Pawpaw Festival - Sep 11 (Fri) thru Sep 13 (Sun) - Fri 4pm-midnight. Sat 10am-midnight. Sun 10am-4pm. The 22nd Annual Ohio Pawpaw Festival. What is a Pawpaw...The pawpaw is North American s largest native tree fruit. the fruit has a wonderful creamy texture and a tropical flavor. We hope you come to join the crowds of happy folks at scenic Lake Snowden in Albany, Ohio for 3 days of Pawpaw music, food, contests, art, history, education, sustainable living workshops and activities for the kids. Ever heard of the pawpaw fruit... Join pawpaw fanatics from around the country at the peak of the season for a weekend filled with everything pawpaw food, beer, music, art, history, trees, people, and much more. Smell, touch, and taste this wonderful tropical-flavored fruit that has been growing in America for thousands of years and is considered Ohios first fruit. Southern Ohio is home to some of the largest and best tasting wild pawpaw patches on the planet. The pawpaw is also super nutritious and historically significant. Come wander the hills and discover why George Washington s favorite dessert was chilled pawpaw. Admission is $10.00/one-day pass $20.00 /weekend pass children 12 under free.
Contact: Ohio Pawpaw Festival,
Phone: 740-698-6060
Torchlight Canoe Trip - Sep 12 (Sat) - Grab a tiki torch and enjoy a paddle after dark on the Hocking River. Stay after your trip and enjoy live music and a bonfireVisit https://hockinghillscanoeing.com/torchlight.html for more information
Contact: ,
Phone:
Backwoods Festival - Sep 18 (Fri) thru Sep 20 (Sun) - Looking to enjoy live Bluegrass music Head over to the Backwoods Fest. With live music rain or shine, 300 vendors and over 30 different food options - there is fun to be had for everyone Visit www.facebook.com/backwoodsfest for more information.
Contact: infobackwoodsfest.com,
Phone:
Namaste in Nature: a mini retreat - Sep 19 (Sat) - https://www.newleafwellnessretreat.com/namaste-in-nature-a-mini-retreatKick start your morning with our signature Healing Stone Practice intended to help you identify barriers to living a healthier, happier life. Up next, experience a powerful and effective self-care practice. Our Roll Release Therapy Session is a full-body self myofascial release sequence designed to erase pain, improve mobility and help you live better in your body. This session will conclude with a grounding yoga practice designed to ease you into a blissful state of mind.Lastly, well tune our attention to the healing benefits of the natural world as we journey through the Hocking Hills to reconnect with nature through the art of forest-bathing. Our Health and Wellness Providers will be with you every step of the way to lead you through a combination of practices and techniques proven to reduce stress, elevate your mood and boost your bodys immune response.INCLUDES - Healing Stone Practice, Roll Release Therapy, Aromatherapies, Yogic Breathing Practices, Guided Sensory Exercises, Personal Writing Journals Forest Tea TastingsSeptember 19th, 2020 9am-12pm Lasts approximately 3 hours. Max Capacity: 10 Participants
Contact: New Leaf Wellness Retreat,
Phone: 740-404-9547
October 2020
Circleville Pumpkin Show - Oct 21 (Wed) thru Oct 24 (Sat) - The Greatest Free Show on Earth. But not the baked goods - 23,000 pumpkin pies and 100,000 pumpkin donuts are sold. Parade, Little Miss Pumpkin Show, Miss Pumpkin Show, Baby Parade, Band Youth Organizations, Pet Parade, Lodges, Civic, Fraternal Organizations, Ohio Festival Events Association Queens. Rides, games, live music and every kind of thing you can imagine made from a pumpkin
Contact: Circleville Pumpkin Show,
Phone: 740-474-7000
December 2020
New Years Eve Train and Fireworks - Dec 31 (Thu) - Celebrate the new year on the train On December 31st, the train departs the Nelsonville Depot at 10:30 p.m. and travels to East Logan and return. On the return trip, the train stops near the stroke of midnight at everyone is treated to a great fireworks display to help bring in 2020 Two seating sections are available: Pizza Pop and Wine Cheese. Only those over age 21 are permitted in the Wine Cheese section. Our family-friendly Pizza Pop is open to all ages. During the ride, depending on your seating choice, you will be served either pizza cheese pizza or pepperoni and soda pop diet versions and water also available upon request or wine and cheese. You may not bring alcohol on board but you are welcome to bring other food and soft drinks as youd like. Each coach is heated. You can not move from car to car or section to section during the train ride. You also can not leave children under age 18 unattended in Pizza Pop section. Reservations, online or by phone, are required as ticket sales end at 11:55 p.m. on December 29th.Duration of ride: Approximately two hours
Contact: Hocking Valley Scenic Railway,
Phone: 740-753-9531
HockingHills.com RSS Regional Activities
State
Nature Preserve
National
Metro